Bardzo ważne informacje
MEETING IN SERBIA - CHAIRMAN OF THE JAN KARSKI INSTITUTE COUNCIL, DEPUTY MINISTER ARKADIUSZ MULARCZYK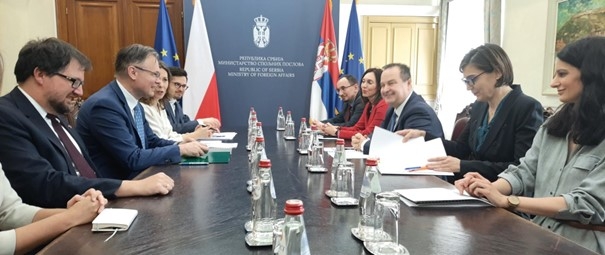 From 22-23 February, Deputy Minister Arkadiusz Mularczyk travelled to Serbia. The main theme of the meetings with representatives of the Serbian government and parliament was Polish-Serbian relations and the war in Ukraine.
On the last day of his stay, the Minister visited Jajinci, a site where 80,000 Serbs, Jews and Roma - prisoners of the nearby former German concentration camp, Banjica - are buried.
At the end of the visit, the Deputy Minister laid flowers at the monument commemorating Serbian citizens murdered by the Germans during the Second World War and met with the Director of the Museum of Genocide Victims, Dejan Ristic.
It was recalled that neither Poland nor Serbia has so far received the compensation due to them from Germany for the losses suffered due to the Second World War.